We're Hiring: Project Architects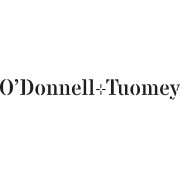 We're Hiring: Project Architects
O'Donnell+Tuomey Limi ted Reg. in I rela nd No. 47 45 73 Dublin Office 20A Camde n Row Dublin 8, D08 DH0 4, Ire lan d +353 (0 )1 47 5 2 50 0 info@ odo nne ll -tuomey.ie
Cork Office 35 Gra nd Pa rade Cork, T1 2 D5PP, I relan d +353 (0 )21 4 27 16 00 info@ odo nne ll -tuomey.ie
London Office 85 S outhwa rk St reet Lond on SE1 0 HX, UK +44 ( 0) 20 79 21 01 29 info@ odo nne ll -tuomey.ie
Founding Directors Sheila O 'Do nnell John Tu omey Directors Willie Ca rey Jeana Gearty Mark Greha n
O'DONNELL + TUOMEY is seeking talented, enthusiastic and experienced
PROJECT ARCHITECTS to work in our DUBLIN studio on significant cultural
and educational projects at home and abroad.
We are committed to the craft and culture of architecture. We work
cooperatively and creatively in an open plan studio, providing space for
drawing, model -making, teamwork and discussion of architecture.
Working as part of our studio team, Project Architects will develop architectural
detail design solutions, prepare planning and other statutory applications,
coordinate and review design team information, research and design robust
technical details, produce tender and construction drawings and specifications,
and see buildings through to completion on site.
The successful candidate will be fully proficient and experienced in Revit and
AutoCAD. We would welcome applicants who can demonstrate experience of
BIM coordination and daily management of BIM project da ta
sets/work flows/procedures and standards.
The Architect's role involves close coordination with the design team throughout
the design and construction process. Candidates should be highly motivated
with excellent communication, numeration and organisati onal skills; good
spoken an d written English is essential.
Postal applications only with a short CV outlining your experience and a
selected portfolio showing examples of your work to:
Brenda Sorohan
O'Donnell + Tuomey, 20A Camden Row, Dublin 8, D08 DH04, Ireland
Closing Date: 2nd March 2020
No recruitment agencies